Putting off important tasks can cause you to lose sleep, impact your health and cause personal/ business relationships to suffer. Luckily, there are ways of overcoming procrastination so you can get things done.
Make a To-Do List
One of the easiest ways to get stuff done is to just do it. This means creating a daily to-do list. After creating this list, outsource as many of these tasks as possible to a virtual assistant. Not only will this save you valuable time, outsourcing also ensures these tasks will get done. Take a look at the remaining items on your list. Complete the easiest ones first – this will give you a sense of accomplishment and motivate you to move on to the next task.
Start Working First Thing in the Morning
For most people, the morning is the best time to focus on items in a to-do list. Use this time before your office becomes too busy or distracting. To keep your momentum going, close your office door to deter people from walking in. If possible, avoid checking email until the afternoon or let your VA check your email for you.
People who procrastinate often focus on less important tasks to avoid having to complete the important ones. By delegating less important tasks to a virtual assistant, you will have no choice but to focus on the important tasks at hand.
Take Frequent Breaks
Sitting for long periods of time isn't good for your health. Take a walk or meet a friend for lunch to take your mind off of what you need to accomplish. Taking a break also allows your brain to become less cluttered. During the day, take several five-minute breaks to stand, stretch and move away from your computer.
If you forget to take breaks, have your VA add these break times to your calendar. Highlight break times so you see them easily.
During the work day, take several five-minute breaks to stand, stretch and move away from your computer.
Click To Tweet
Determine Why You Procrastinate
If possible, determine the reasons why you feel compelled to put off completing important tasks. If you feel overwhelmed with work, have difficulty making decisions or you enjoy the challenge of meeting tight deadlines a little too much, you should make some changes to avoid those destructive behaviors before they negatively affect your career.
Delegating tasks to your VA is a great way to lighten your workload, consistently. Making decisions quickly without mulling over them for long periods of time helps you feel more in control of your career, which can help prevent future procrastination. Creating unhealthy challenges for yourself like racing around last-minute to meet a deadline is a sign that you're bored with the task. Consider outsourcing it so you can focus on tasks that have more meaning for you.
Over time, you'll notice the benefits and rewards of achieving business goals. With the help of a great VA, you will finally have that extra time to work on passion projects and explore new business opportunities that may have escaped your attention.
Understanding why you put off getting your work done is the first step to correcting this problem. Once you accept that you procrastinate to the point where it's affecting your business, it's time to figure out how to stop this behavior. In most cases, telling yourself to manage your time better or to stop wasting time checking your Facebook page every hour isn't going to solve the problem. Overcoming procrastination involves changing the behaviors and habits that prevent you from actually accomplishing important tasks.
Create a list of business goals that correspond to the tasks on your to-do list. This can sometimes give you the momentum needed to stop procrastinating quite so often.
The Role of a VA
A virtual assistant can take over those tasks you keep putting off to ensure they're completed on time. Relying on a good virtual assistant allows you to work on more favorable tasks and gives you more free time to pursue other interests or business opportunities.
Relying on a good virtual assistant allows you to work on more favorable tasks and gives you more free time to pursue other interests or business opportunities.
Click To Tweet
And while a VA can't stop your tendency to procrastinate, an effective virtual assistant can keep you on the right path by completing tasks on time, tackling the boring tasks you loathe or by making task-related decisions quickly. Delegating tasks to a VA does require a minimal level of involvement on your part, however it comes with all the rewards of meeting or exceeding business and life goals too.
If you can pair business goals along with the tasks you need to complete, you'll quickly begin to see the long-term rewards of getting stuff done on time. You don't need to tackle this problem alone, however. A virtual assistant may be just what you need to ease the stress and frustration caused by tight deadlines.
You may never completely overcome your tendency to procrastinate, but hiring a VA is one way to ensure procrastination won't hinder your ability to truly succeed!
How do you overcome procrastination? Please share in the comments below.
Grab Your Free Workbook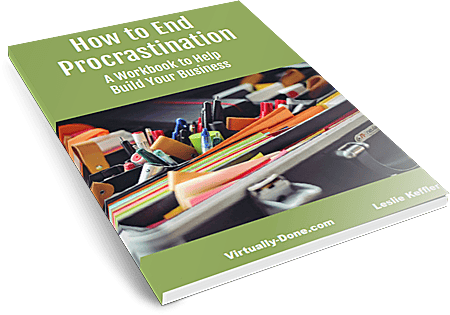 Sign up to get your free "Procrastination Workbook" to help reduce stress & boost your revenue.
Hi and welcome to Virtually Done. I'm Leslie and it's a pleasure to meet you! If you are an online entrepreneur or small business owner struggling to find enough time in your day to concentrate on the tasks you are passionate about, I can help you!
If you would like to learn more, please contact me. I'd love to hear from you!