People join Facebook groups to engage with others who are passionately interested in the main group topic and focus. It is a way to be seen by a specific audience — your ideal audience.
Facebook is social. It is a place where people go to hang out. When they hang out in a group, they are letting their hair down and interacting with their unique community. They are looking for help and for bouncing ideas. They are looking for a place to discuss topic-related challenges. Most of all, they want a place where they can ask questions and chat on their favorite or most urgent topic.
People in a Facebook group share a common interest and everyone benefits from the pooling of ideas and experience.
Click To Tweet
You can join closed or secret Facebook groups where membership is by invitation. One usually has to be approved by the group owner. Or you can join public groups, where no approval is required and you join the group instantly.
For best visibility in front of a specific audience, choose closed groups. Secret groups do not show the members' names to anyone but current members. Whereas open groups will expose you to too vast an audience (which effectively renders you invisible among a crowd).
Click this link if you want to compare the different types of group features more thoroughly: Facebook Group Help
This post will only be covering closed groups. Public ones consist of too generic or wide a membership to be truly useful in developing a narrow niche community. They are also subject to two unpleasant phenomena: flaming and trolling.
Flaming occurs when there are no rules or guidelines, or the group has grown too large for moderators to stay on top of it. That's when people get into heated fights over posts, with personalities and drama flying all over the place, unchecked. Not only does this waste energy, but it drags people down and creates disharmony. In fact, when a group descends into bickering, that's the point where people who are action-takers and serious about a topic often splinter off and create a new, closed group.
Trolling happens when people who may have no interest at all in the group topic skim through posts, often because they're bored, or because one small comment or personality caught their eye. Trolls are the people that indulge in cyber-bullying, and start arguments for the sake of stirring things up and upsetting people.
The real reason that investing in public groups is not a great idea?
Because they are usually so large, your post stands a good chance of being missed by the people you want to reach and you will rarely get much interaction from the group owner, moderators or influencers — especially if it's a large group with thousands of members.
Closed Facebook Groups
These groups are often built specifically around a course, challenge or membership site. They provide an excellent way to connect with serious action-takers who are interested on your topic. Members can find peers, potential future affiliates and joint venture partners. But in making those connections, you need to avoid stepping on the group owner's toes. For example, you wouldn't join and in your first post immediately ask her members to join your new group.
People speak more freely in a closed group than they do on their generic Facebook feeds because only group members can see the actual posts. This encourages greater frankness and the sharing of weaknesses or other issues and questions. There is traditionally much better moderation in a closed group. A really good Facebook group owner or moderator can keep everyone in the group interacting consistently and respectfully, in a relaxed, enjoyable and focused manner.
A really good Facebook group moderator can keep everyone in the group interacting consistently and respectfully in an enjoyable and focused manner.
Click To Tweet
It's a great strategy to create your own Facebook group around your area of expertise, and an even better strategy if your area of expertise is also your passion. But before you can build a successful group yourself, it is a good idea to be seen as much as possible, especially in other peoples' Facebook groups.
Look for a group where the members, owner and moderators are consistently active. Ask your fellow professionals who are on Facebook for recommendations.
Focused, closed Facebook group sites are where people get to know you and your area of specialty. In someone else's group, you will have an opportunity to:
Grow, practice and try things out
Help your ideal community member
Relax and have fun with them
Ask them to help you
Share links to your blog posts
Share photos, infographics and image quotes
Show how much you know
Become known!
Get to Know Your Community
Joining the Facebook group of a competitor or expert whose area of interest is closely related to your own area of interest can give you insights into products and programs you can create for that type of community. But first, you have to get to really know the people in that community.
As you interact, you'll learn what works best for you and what doesn't. You'll learn which post types go pretty close to viral or never get a response at all.
You'll get to know people and they'll get to know you.
You'll have your own fans and those who rarely bother with your posts. Your fans are future subscribers. In fact, you can build a client avatar off your most enthusiastic group fan – the one that always comments on your posts and supports or applauds your ideas. By the time you've been a member of two to four quality Facebook groups for a few months, you should have the assurance you are sharing the right stuff and that the right people will get to know your name and remember you.
Facebook groups not only allow you to share valuable information, they also allow you to receive valuable information. Pay close attention to what gets posted — and especially to the responses. Take screenshots of posts, polls, questions and answers. Keep a Research Journal and fill it with these screenshots. You can either print them out and paste them in an actual journal or you can have a "Facebook Group Journal" digital folder and put your screenshots in it. Your material will be instantly dated and you can sort your posts by date if you like or by topic, person or whatever works for you.
This file is your richest resource when it comes to thinking up products and packages to create for your market!
In summary, a Facebook Group is a place for group communication and for people to share their common interests and express their opinions. They are a powerful marketing tool for your business. These groups help you attract new customers and engage current ones,
Do you use Facebook groups for your business? How do you increase and engage your followers? Please leave a comment below and let me know what you think.
Grab Your Free Checklist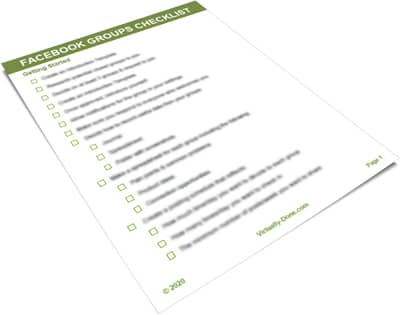 Sign up to get your free "Facebook Groups Checklist" to help boost your revenue.
Hi and welcome to Virtually Done. I'm Leslie and it's a pleasure to meet you! If you are an online entrepreneur or small business owner struggling to find enough time in your day to concentrate on the tasks you are passionate about, I can help you!
If you would like to learn more, please contact me. I'd love to hear from you!