As an entrepreneur you probably find yourself juggling all sorts of tasks, often with shifting priorities. You may get to the end of your working day and question whether you've made any progress or achieved anything! This can feel frustrating to say the least. Here are some tips to help beat overwhelm and achieve efficiency…
| | |
| --- | --- |
| | Know How You Spend Your Time |
Wasted time is the basis of inefficiency and this often occurs due to procrastination. The first step to becoming more productive is to understand how you spend your time. This can be analyzed quite easily, by tracking the time you spend on tasks and between tasks. This can be done either by hand or with a time-tracking app such as Time Doctor. This simple exercise can also be performed by your team and will help you discover where time is wasted in your business and where improvements need to be made.
| | |
| --- | --- |
| | Processes |
Documented processes across many areas of your business will help increase efficiency. Processes will prevent you and your team from 'reinventing the wheel' each time you handle a routine task. Creating templates will vastly improve productivity as you're able to follow procedures and only customize when necessary.
| | |
| --- | --- |
| | Tools |
Readily available online software will massively improve the day-to-day operational efficiency of key areas of your business. There are tools that streamline many business areas. For example, customer support, project management, payments and team communication.
| | |
| --- | --- |
| | Prioritize Your To-Dos |
Focus is in and multitasking is out! Trying to do too much will just stress you out and cause overwhelm. This can actually lead you to achieve very little. You need to work with your priorities and focus on the most important tasks. Take a look at your to-do list and pick three main tasks to achieve each day. You're likely to get more done in this manner and then it's a bonus if you manage to complete more.
Focus is in and multitasking is out! Trying to do too much will just cause you to get stressed out and feel overwhelmed.
Click To Tweet
Another very simple yet effective habit is to plan your to-do's for the next day. It should be the last task you do each working day. This means you set your intention and awake with a firm plan for the day ahead.
| | |
| --- | --- |
| | Break It Down |
People often reach overwhelm and become unable to move forward when faced with a large task. However, breaking the task down into smaller achievable steps makes everything more manageable. It helps you strategize and see your direction clearly, which can increase your motivation in a big way.
| | |
| --- | --- |
| | Embrace Change |
If the method chosen to complete a task continues to achieve the required outcome, people will often resist changing it. However, if the same outcome can be achieved with considerably less effort in a fraction of the time (therefore making you much more effective), change should be encouraged!
| | |
| --- | --- |
| | Delegate to Your Virtual Assistant |
Many entrepreneurs find delegation challenging, but you need to let go for the sake of your business.
Click To Tweet
As a proactive resource dedicated to supporting your business, you can be confident that your VA will improve your business operations and help you grow your business.
Contact your Virtual Assistant today to dramatically improve productivity in your business.
How have you conquered overwhelm in your business? Let me know in the comments below!
Grab Your Free Checklist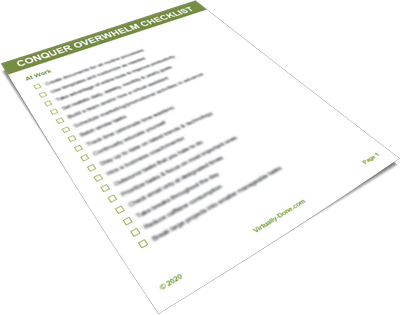 Sign up to get your free "Conquer Overwhelm Checklist" to help reduce stress & boost your revenue.
Hi and welcome to Virtually Done. I'm Leslie and it's a pleasure to meet you! If you are an online entrepreneur or small business owner struggling to find enough time in your day to concentrate on the tasks you are passionate about, I can help you!
If you would like to learn more, please contact me. I'd love to hear from you!